The Beginning of Nine Circles

In 1980 there was band called "Genetic Factor". It consisted of 3 boys. Then each of the boys found a girlfriend and "Genetic Factor" split up. The boys started to make music together with the girls, so now there were 3 bands in one house with 3 floors.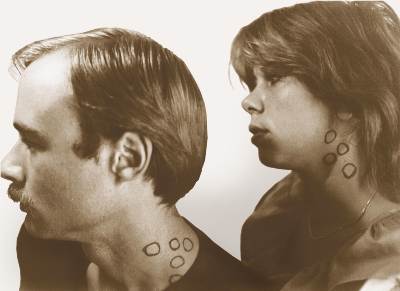 One of the boys, Richard Zeilstra, had a job at the radio VPRO. The program was called "Spleen" and he gave New Wave bands a chance and told the bands to send tapes to him. The best bands had the opportunity to play live at the radio and had a chance to come on the LP "Radio Nome".
So Peter van Garderen and I (Lidia Fiala) who were very much in love at that time sent our tape to him and then it happend; we were the only ones from this house to be on the radio. Richard said our music was special, but we did not realize it. We just started to make music together and our life was at that moment making love, getting out of bed to make music and getting back into bed again.
I started to write my lyrics when I was 15 years. It was a way to deal with the situation I was in since I was born. So there was the music and there where the lyrics and Nine Circles was born. In about 2 years we made around 60 songs.
We never had a live show on stage, only one concert live at the radio and we came on the LP.
After two years we split up and Nine Circles disappeared.
---
The Return of Nine Circles

In 2009 my son Patrick googled my name, just for fun. Then he called me and showed me what he had found: Wow! Nine Circles was all over there! For 25 years I did not talk about it because back in 1982 it had no meaning and people did not understand the music!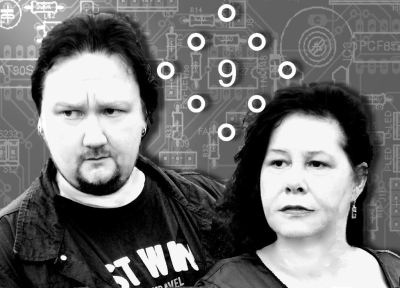 I put my face on facebook and 1 day later I had a mail from Kristiaan Horvers with the question "Are you the singer of Nine Circles"? I told him that is was me, but that I am not only the singer. He told me a lot of things about Nine Circles: That he found Peter van Garderen a time ago and that there was a Nine Circles CD released in the 1990s. I did not know about the CD and at that moment I decided that Nine Circles will have to come back. Kristaan helpt me with a lot of things and thanks to him I know a lot more about what happend with Nine Circles. 25 years I did not listen to the music or even talk about it.
Peter is not able to join me in Nine Circles, he has a different life and he is happy the way it is. He is supporting me and likes that I am back, he is sending me all the music that we made back then!
In 2010/2011 there was a first revival of Nine Circles with Joachim/Johanna Saleina, which ended in September 2011.
In 2012 Nine Circles is revived a 2nd time. Through Facebook and MySpace I met Per-Anders Kurenbach (Psyche, Shock Therapy, The Eternal Afflict) and we both recognized that we were on the same wavelength. We played our first concert in Lyon (France) without having rehearsed together and even without having met in person before. Nevertheless the concert was a success and so other concerts in Germany, Belgium and Lithuania followed and are still following. In the same year we released a 7" and a 2LP with old but mostly unreleased songs from the 80s. In early 2014 a 7" with 2 new songs was released and on 09/09/2014 a full album will follow on LP and CD.