2019-11-17

We're glad to announce that on November 29th Onderstroom Records will re-release our first album "The Early Days" as 2LP. So for people owning no CD player, these tracks from 1980-82 are finally available on vinyl again. The 2LP will be available directly from the label or from our shop
---
2019-08-11

The record that got the Nine Circles story started (see here), the legendary compilation LP RadioNome from 1982 including tracks by "Van Kaye & Ignit", "Cargo Cultus", "Genetic Factor", "Smalts", "Stephen Emmer" as well as our songs What's There Left and Twinkling Stars was currently released on transparent green vinyl by Blowpipe. The LP is available from the label or from our shop.
---
2018-07-28

The belgian label Onderstroom Records recently released a compilation LP called "Dutch Wave" which gives an overview about the early 80s New Wave and Minimal Synth scene in the Netherlands. Besides "Nine Circles" you'll find such illustrious names like "Van Kaye + Ignit", "The Actor", "Ende Shneafliet", "S.M. Nurse", "Das Ding", "Beatnik Love Affair" and "Störung". The LP is pressed on 180g vinyl and comes in a classy bronze-coloured gatefold sleeve. You can get it either from the label or from our shop.
---
2018-05-26

Today Echoplay released a 7" vinyl of "Some Candy Talking" which is a new project of Haiko Herden (Charles Lindbergh n.e.V., Anti Trust, ...) with various female guest singers, in this case with me, Lidia The Rose. You can get it either from the label or from our shop. For sound samples click here.
---
2017-11-12

Recently Tony Leduc-Gugnalons released his book Afterpunk highlights - L'ère de la glaciation sonore which covers on more than 1000 pages the history of Post Punk and New Wave. Amongst others it even contains a chapter about "Nine Circles". Unfortunately the book is only available in French, but if you don't speak French you could still read the interview on which the "Nine Circles" chapter is based here.
Also we've updated our shop today and added the LP "Passion" by "Boyz in Parx".
---
2017-06-19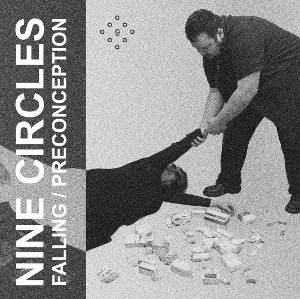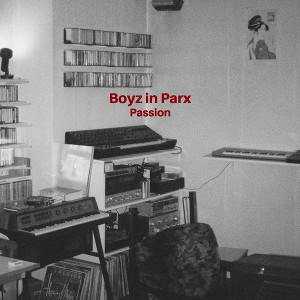 Today two new records related to "Nine Circles" were released: At first EE Tapes released a 7" vinyl with the 2 songs "Falling" and "Preconception". It is available directly from the label and at our shop.
Furthermore Top Tape released the debut LP "Passion" by "Boyz in Parx". "Boyz in Parx" was a project of Peter van Garderen which he did with Robby Horsfall ("No Honey From These") after the split of "Nine Circles" from 1983 until 1993. The LP is distributed by Domestica.
---
2017-03-04

Our new single "My Handsome Ugly Puppet/Hide" arrived! It will be released on March 9th, and can already be ordered here.
---
2016-12-31

This year it has been pretty quiet around "Nine Circles". This is because Lidia had serious health problems. (Besides others Lidias lung collapsed at our concert in Bochum at the beginning of the year.) She's slowly recovering and hopes that she can play concerts again (maybe even in 2017). Currently there are 2 vinyl singles in the pressing plant: In February/March we will release "My Handsome Ugly Puppet/Hide" by ourselves (sound snippets here) and afterwards our friend Eriek van Havere will release "Falling/Preconception" on his EE Tapes label. Meanwhile we will continue to work on our new LP "Emerge" which is also planned to be released next year. That's it for now. We thank you all for your support and wish you a happy new year!
---
2016-01-06

Our first concert in 2016 will be at "Die Trompete" in Bochum on February 12th.
---
2015-06-28

While preparing our upcoming gig at "Magic Waves Summer Festival" in Berlin the next concert was confirmed: On October 9th we'll play together with "Adam Usi" at "Deca Dance XXVII" in Augsburg.
---
2015-06-07

A new interview with Black magazin is online now (unfortunately only in german).
---
2015-05-20

These are our next concerts: Whitsunday we'll play together with "KaS Product", "Pure Ground" and "Peine Perdue" at "Gothic Pogo Festival X" in Leipzig. Then on June 11th we'll play at De Kleine Hedonist in Antwerp and on July 10th we'll play together with "Alexander Robotnick" and many others at "Magic Waves Summer Festival" in Berlin.
---
2015-03-23

On April 9th our album "Alice" will officially be released as download by Sub Culture Records. It will be available from iTunes, Amazon, Spotify, WiMP, Klicktrack, 7-Digital, Deezer, eMusic, JB Hi-Fi etc. If you can't wait that long ;-) you can already download it from their official Bandcamp page here or still buy it as LP or CD from our shop. A big thank you to Per Aksel Lundgreen and Mark Warner for making this possible!
---
2015-03-08

At May 24th we will play together with KaS Product, Peine Perdue and Pure Ground at "Gothic Pogo Festival X" in Leipzig.
---
2015-01-04

We've added a new live video of your show in Munich here and the new EE Tapes compilation "Insane 80s [EV01>EV10]" to our shop.

---
2014-10-02

There's good news and bad news regarding our album "The Early Days": The bad news is, that also the second pressing of the 2LP is sold out. But the good news is, that this album now is available on CD. You can already get it from Genetic Music or directly from our shop and soon from many mail orders worldwide.

---
2014-09-09

From today on our album "Alice" is available in our shop and soon also from the following mail orders:
Anna Logue Records
Back Again Shop
Formic Records
Vulcanoid

---
2014-07-20

From now on our new Album "Alice" can be preordered here, but please be aware that it will not be released until 2014-09-09.
---
2014-07-10

At 2014-09-05 Attaque Surprise presents a release party for our new album "Alice" at Tsunami Club in Cologne. Here you will get the exclusive opportunity to aquire the LP/CD before it will be in the shops from 2014-09-09.
---
2014-06-22

The release date for our new self-released album "Alice" is now fixed: From 2014-09-09 it will be available both on LP and CD. As appetizer we made a video clip of the song "Alice Don't Jump", from which the album derived its name. Here are already some sound snippets as MP3 and here as video.
---
2014-03-30

This year we've planned four concerts so far: At first we will play on Easter Saturday together with Peine Perdue and Keluar at "Remember Of Past" in Kortrijk. Afterwards we have a gig at Sabotage in Dresden at the end of May. Mid of September we will play in Witten at "Notte Oscura" party. And finally we will play in Fürth at "ColdWaveCult" at the end of October together with File Not Found and Echo West.
---
2014-03-08

EE Tapes just released a 7" with two new songs: "Number Not Available" and "The Face Behind A Clown". It is available directly from the label and at our shop, but maybe not for long, since it is limited to 250 copies.
---
2013-12-19

Today we've added the brandnew compilation LP "Tunes That R... Attractive!" to our shop and uploaded some photos of our last concerts in Düsseldorf and Vilnius.
---
2013-12-07

On New Year's Eve we will play in Maxim Kino (München, Germany) at "Grosses Gemeinsames Jahresendfest".
---
2013-11-13

Here you find a clock based on the Nine Circles Numbers by Ji Lee.
---
2013-11-09

Our first release of a new song was "Mercy" on the "Electric Voice II" compilation from Canada. Now this LP, which also contains tracks by Vita Noctis, Martin Dupont, Martial Canterel, ADN' Ckrystall and other great bands, is finally available in our shop.
---
2013-10-20

New concerts in November: At 2nd November we will play together with No More in Düsseldorf (Germany) and at 29th November we will play in Vilnius (Lithuania).
---
2013-07-13

If you have got an Android smartphone or tablet PC you can download our free App here.
---
2013-06-08

Today we uploaded some photos from our last concerts.
---
2013-05-09

"In The Dark Of The Night" is featured on "Frogmania 2" compilation LP, which also contains songs of "Echo West", "Paul Chambers", "Audiosynthese", "Psyche" and others. You can get it here.
---
2013-05-01

Finally our 2LP "The Early Days" is back in stock! Also we've added the Re-Release of the "RadioNome..." compilation to our shop.
---
2013-03-20

On June 1st we will play at "Minicave" in the Triptychon (Münster, Germany).
---
2013-02-20

Our first new song "Mercy" is released on the compilation "Electric Voice II" by - you may have already guessed it - Electric Voice Records along with bands like "Vita Noctis", "Martial Canterel", "Martin Dupont", "Das Ding" and others.
---
2013-01-29

The legendary RadioNome compilation from 1982 which includes "Twinkling Stars" and "What's There Left" is now re-released by Blowpipe.
---
2013-01-12

Today we uploaded a video from our latest concert in Duisburg, see here. A report of the event can be found here, but unfortunately it's just available in german language. Meanwhile we're busy working on our new album; 4 songs are finished by now...
---
2012-12-12

Finally the 2LP "The Early Days" with 20 mostly unreleased songs from 1980-82 is ready! It will be available from Friday 14th in our shop and from Genetic Music. If you go to the BIM in Antwerp this weekend you can also obtain it directly at the Genetic Music stand.
---
2012-11-17

The music magazine Back Again published a review of our new 7". If you understand german you can read it here otherwise you could try to understand the automatic translation here.
---
2012-11-01

On January 1st EE Tapes will release a 7" sampler called "80s compilation EP", with the following tracks:
"The Misz - A La Recherche de B.L." (previously unreleased)
"Bernthöler - Images" (rare cassette compilation track)
"Opera Multi Steel - Icare" (rare cassette compilation track)
"Nine Circles - I'm Deeply Touched" (authorised version)

---
2012-10-29

The planning of the first official "Nine Circles" album "The Early Days" is nearly finished. It is now certain that it will be a double LP! Due to Genetic Music the planned release date is in December.
---
2012-10-09

The "NC001" singles have arrived yesterday! They will be available in our shop by the end of this week. You will also find it in selected record shops and mail orders soon.
---
2012-09-09

Today (on 09-09 - What a coincidence!) we finished the material of the Nine Circles 7" with number "NC001" which will be sent to the pressing plant next week! The single will already contain a song from the upcoming album ("How's About The Aims In Life") which Peter is singing as well as an exclusive track ("Your Heat Burns My Mask") which you may know in a newer version from our live concerts, but this is the original. We plan to release the 7" until end of October.
---
2012-08-22

On September 29th we will play together with Brigade Rosse at "Neon Waves" in the Cantine Bielefeld.
---
2012-07-27

This week "Electric Voice Records" released an interview with me. You can find it on their website and at our interviews page. As a bonus they added a brand new song by Per and me, called Mercy.
---
2012-07-24

I'm proud to announce that an album with mostly unreleased songs from the early 80s will be released before the end of the year. It will be called "The Early Days" and will be released by Genetic Music.
---
2012-07-22

Currently Per and I are busy working on new songs. Also we did a photo shoot recently. You can watch these promo photos here.
---
2012-07-02

We uploaded two more videos of our concert in Lyon, see here. Also you will find some photos here.
---
2012-06-15

Because our keyboard player Sebastian Hartwig prolonged illness, to my great regret I must announce, that he was not able to participate in Nine Circles.
Per and I wish him a speedy recovery.
Nine Circles continues with Per-Anders Kurenbach and Lidia The Rose.
---
2012-05-23

A new video is online now: "Miss Love" live in France, see here.
---
2012-05-10

Today also Per-Anders Kurenbach (known for his work in Psyche, Shock Therapy and The Eternal Afflict, to name but a few) joined Nine Circles! I'm deligthed that he will already be on stage at our concert in Lyon next week!
---
2012-04-18

Nine Circles is back! I'm happy to announce that I enlisted Sebastian Hartwig of Lower Synth Department for Nine Circles. More info coming soon.
---
2011-12-19

We regularly get requests for copies of the single 'New Era/Tsar Bomba', which we unfortunately can't fulfil due to the much too small edition. (Back then we asked the label to press more, but they didn't want to.) So we decided to make it available as free download for all, who didn't have the chance to get the 7".
---
2011-10-19

The french magazine Vogue has published an small article about the "Nine Circles" issue of "FAN" by BAT. You can find it here.
---
2011-09-10

Today the project 'Nine Circles New Era' ended. I'm very sad and feel sorry for our fans, but I have to tell you, that there will be no more live concerts and no releases of our contemporary songs/versions. If you planned to go to our concert at Sonic in Lyon next week, I ask your forgiveness and ask you to go there nevertheless and enjoy the other great bands that will play there.

I tried everything to avoid this step, but in the end it didn't work. I wanted to revive Nine Circles because making music is my life, but it seemed that for my keyboard player Joachim/Johanna Saleina making money is more important than the love for music.

If there will ever be more concerts (either alone or with a new partner) I can't say at this moment.

Love,
Lidia The Rose